Archeo View is under development. Please let us know if you have specific needs or questions.
Contact
Archeo View
Promotion of archeological heritage
Many archeologists feel a need for better promotion and enhancement of archeological heritage.
This need goes far beyond the world of archeology and also includes tourism and education sectors.
---

Awareness of the past and protection of archeological sites
Many ruins are scattered throughout our territory. The visitor will be able, with the help of the ArcheoView application in free access and his mobile phone, to learn about the history of the sites opening in front of him. 
The official authorities (e.g. cantonal archaeology) will be able to decide on the choice of sites to be presented on the application. Sites that have already been published could be published, while sensitive or excavated sites could be excluded..

Immersion in history with the use of the latest technologies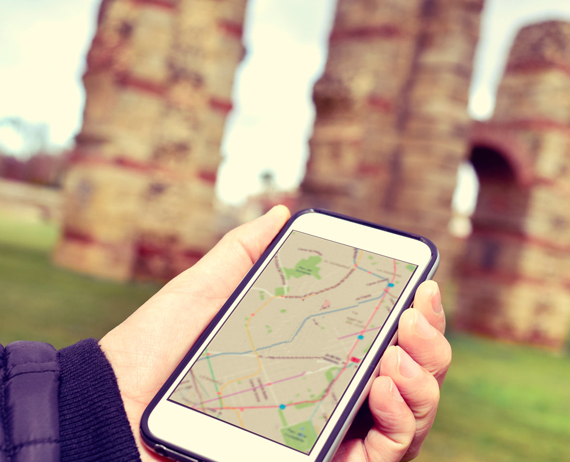 On map
At the macro level, ArcheoView will allow a spatial visualization of all points of archeological interest in a given region, nationally and internationally.
A search engine will allow you to select specific sites, such as all the castles of the 11th century or all the archeological walks, etc.
On the archaeological site
On a micro scale, that of the archeological site itself, a multidimensional visualization will improve the level of understanding of the visitor diving into the past.
This visualization will be accompanied by text to satisfy the most demanding visitors.

Participate, enter and validate
The ArcheoView module will be free of charge and available to any public on the Internet. ArcheoView is based on three pillars
Citizen Science

Use the potential of collaborative science to populate the database by allowing archeology students or passionate people to introduce the results of their research related to the different sites

Easy to capture

Facilitate the capture of site information (topographic points, description sheet, photos, 3D), the display of maps, suggestions for archeological walks, etc.

Validation by professionals

Validate the input data by professionals, for example by obtaining the approval of cantonal archeologies.

Benefits for ArcheoBase users
A person or institution already using the ArcheoEntry and ArcheoAnalysis modules will be able to easily make available in ArcheoView the data (photos, maps, etc.) of an archeological site that they wish to share with the public.